Want to stay on top of all the space news? Follow @universetoday on Twitter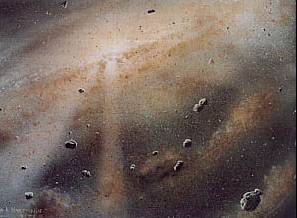 An exact answer to "how old is Jupiter?" is difficult to determine. There are no meteorites available for chemical dating. No spacecraft has returned material from the planet, but there a belief among scientists that Jupiter, like all of the planets developed from the solar nebula about 4.6 billion years ago.
Theory holds that the Big Bang occurred about 15 billion years ago. While older stars formed at that time, ours did not. Scientists believe that our solar system was formed when a cloud of gas and dust in space was excited, perhaps by a supernova. Following the supernova train of thought, the explosion would have caused waves in space that put a squeeze on the cloud of gas and dust. Squeezing made the cloud start to collapse as gravity pulled the gas and dust together and viola, a solar nebula. The cloud began to spin, growing hotter and more dense at the center. The core developed a disk of gas and dust that was hot in the center but cool at the edges. As the disk got thinner and thinner, particles began to stick together and form clumps. Some clumps got bigger, as particles and small clumps stuck to them(accretion), forming the planets, moons, and other bodies in our Solar System. By studying meteorites, thought to be left over from this early phase of the solar system when all of the planets are believed to have formed, scientists have found that the objects in our Solar System are about 4.6 billion years old.
An additional theory holds that the gas giants like Jupiter would have had to form very early to be able to accrete the amount of hydrogen and helium that makes them up. The simplest of gases like hydrogen and helium only existed in the solar nebula during the first several million years before being absorbed. That means that Jupiter may be slightly older than Earth, but only by a fraction o f a second in comparison to the age of the universe.
The planets that we know today are most likely the bodies that grew large, the quickest. Faster growth would have allowed a body to withstand impacts well enough to absorb mass rather than be absorbed. That may be an oversimplification of the entire process, but you can see the sense in it. That leads us back to how difficult it is to determine how old is Jupiter to an exact degree.
Here's an article about techniques scientists use to determine the age of the Solar System, and an article about how planets form quickly, all together.
This page explains how the early Solar System formed, and here's Hubblesite's News Releases about Jupiter.
We've also recorded an entire show just on Jupiter for Astronomy Cast. Listen to it here, Episode 56: Jupiter, and Episode 57: Jupiter's Moons.
Source:
NASA