Want to stay on top of all the space news? Follow @universetoday on Twitter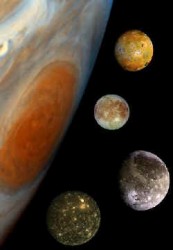 The formation of Jupiter followed the same path as all of the other planets during the earliest parts of the solar nebula. It began as a single piece of dust covered ice that slowly accreted more material. When the nascent planet had accreted enough mass, if developed a gravitational well, allowing it to accrete even greater amounts of matter, including gases.
Gas giants like Jupiter have to form quickly in order to be able to accumulate the gases that they consist of. Gases like hydrogen and helium disappeared quickly after the solar nebula began; whereas, rock and metals are still available throughout the Solar System. "Astronomers now know that massive disks of gas around young stars tend to go away over a period of a few million years," said Richard Durisen, professor of astronomy and chair of the astronomy department at Indiana University Bloomington. "So that's the chance to make gas-rich planets. Jupiter and the planets that are common around other stars are all gas giants, and those planets have to be made during this few-million-year window when there is still a substantial amount of gas disk around."
Gas giants like Jupiter began forming by accreting solid materials, but at a much faster pace than terrestrial planets. "In the core accretion theory, the formation of gas giant gets started when solid objects hit each other and stick together and grow in size. If a solid object grows to be about 10 times the mass of Earth, and there's also gas around, it becomes massive enough to grab onto a lot of the gas by gravity. Once that happens, you get rapid growth of a gas giant planet," Durisen went on to say.
The extremely quick accretion of Jupiter and its intense gravity may have helped Earth to form. Jupiter's mass and gravity caused it to clear large portions of the Solar System of debris preventing huge impacts that could have destroyed Earth and other planets. On the flipside, Jupiter may have prevented the formation of other planets, could have accreted smaller ones, or forced others out of our Solar System.
While Jupiter is massive and contains plenty of hydrogen for fusion, but it will never become a star. It would need somewhere between 50 and 80 times its current mass in order to compress and heat enough to ignite fusion.
The formation of Jupiter followed a well known path. Why it accreted more material than any other planet is still a mystery that, if solved, could lead to a better understanding of gas giants.
Here's an article on Universe Today discussing how the gas giants needed to form quickly, and how gas giants probably consumed most of their moons early on.
This page has some graphics that illustrate how particles clumped together to form Jupiter. And here's the Galileo project's information on Jupiter.
We've also recorded an entire show just on Jupiter for Astronomy Cast. Listen to it here, Episode 56: Jupiter, and Episode 57: Jupiter's Moons.
Sources:
http://newsinfo.iu.edu/news/page/normal/1859.html
http://www.nasa.gov/vision/universe/newworlds/0112_missing_link.html
http://www.nasa.gov/multimedia/imagegallery/image_feature_931.html