Want to stay on top of all the space news? Follow @universetoday on Twitter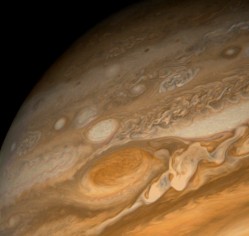 Scientists have used the density of Jupiter to theorize about its make up. They would rather use direct observation, but the planet's tremendously thick atmosphere prevents that. The planet has a density of 1.33 grams per cubic centimeter(g/cm3). That is less than a quarter of Earth's density. This low density all but proves that Jupiter does not have a rock core like Earth, but is mainly hydrogen and helium.
If you are like many of our reader's you might be asking yourself how scientists have arrived at 1.33 g/cm3. Scientists started by looking a Jupiter's moons. Knowing the orbits of the moons allowed them to calculate Jupiter's gravity and apply Newton's laws to extrapolate the planet's mass. They then divided the Jovian mass by Jupiter's diameter, and , voila, you have the density of Jupiter.
The density of Jupiter is merely one interesting aspect of the planet. Let's look at a few others. Since Jupiter is made up of the same materials as the Sun, shy doesn't it ignite fusion and become a star? Frankly, it is not massive enough. Jupiter would have to accrete about 80 times its current mass in order to become compressed and hot enough to fuse hydrogen into helium like the Sun. Scientists have determined that Jupiter could never gain enough material and; therefore, will never become a star.
Jupiter has 64 moons. The four largest, the Galilean satellites named, Io, Eurpoa, Callisto, and Ganymede, are some the most interesting bodies in the Solar System. Io is the most volcanically active body in our Solar System. Europa shows evidence of an ocean of water as we know it here on Earth. Ganymede has its own magnetic field and is larger than Mercury. Callisto's surface dates to the early universe and could be over 4 billion years old.
The density of Jupiter is one of the facts about the planet that you need in order to understand it, but it is only a miniscule speck of knowledge compared to the entire Jovian system. The other facts in this article just scratch the surface of the wonders of Jupiter. The planet is so large that it has daily effects on all of the other bodies in our star system. It could take an entire career to fully understand this celestial giant.
Here's an article on Universe Today about an extrasolar planet that's even less dense than Jupiter, and another about just how big planets can get.
Here's a link to Hubblesite's News Releases about Jupiter, and more information about the density of Jupiter.
We've also recorded an entire show just on Jupiter for Astronomy Cast. Listen to it here, Episode 56: Jupiter, and Episode 57: Jupiter's Moons.
Sources:
http://solarsystem.nasa.gov/planets/profile.cfm?Object=Jupiter&Display=Facts
http://www.usatoday.com/tech/columnist/aprilholladay/2006-09-25-measuring-planets_x.htm
http://solarsystem.nasa.gov/planets/profile.cfm?Display=Moons&Object=Jupiter