Want to stay on top of all the space news? Follow @universetoday on Twitter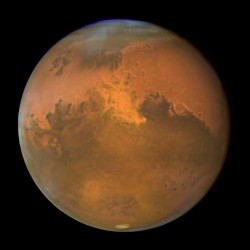 The answer to "what is the closest planet to Jupiter?" changes based on Jupiter's location along its orbital path. When Jupiter, Mars, and the Sun are perfectly lined up, Mars is only 551 million km from Jupiter. That is the closest that any planet gets to the Jovian system. On the other end of the spectrum, when Jupiter and Mars are on opposite sides of the Sun, they are more than one billion km away from each other. At that time, Saturn is only 655 million km from Jupiter and is the closest planet. Let's not forget the occasions when Mercury and Earth jump into the fray.
Now that you have been given a thoroughly vague answer about which planet is closest to Jupiter, here is a clearer one. Mars is normally the closest planet to Jupiter. There are a few occasions during each Jovian year when another planet is closer because of the elliptical nature of each planet's orbit. At different points, depending on Jupiter's location in its orbit and the location of other planets in their orbit, Mercury, Venus, Saturn, and Earth take turns being slightly closer to Jupiter than Mars. These occasions only last for a few days at a time, thus Mars is the closest planet to Jupiter for the majority of the Jovian year.
Knowing which planet is closest to Jupiter has led many to wonder which planet is closest to Earth. You might think that Jupiter is on occasion, given the answer above. Unfortunately, you would be wrong. While Earth can be the closest planet to Jupiter, Jupiter can never be the closest planet to Earth. Confused yet? Venus is always the closest planet to Earth. It can be as close as 38 million km and as distant as 261 million km. No other planet approaches Earth quite as closely during its orbit.
It is difficult to understand the ever changing distances between planets without knowing how elliptical each orbit is, its eccentricity, and the orbital speed of each planet involved. For now, knowing the answer to "what is the closest planet to Jupiter?" may seem confusing, but with a little research, and maybe making your own Solar System model, you will be able to understand how and why the closest planet changes periodically. Once you understand how each planet interacts with Jupiter, you will understand how every planet interacts with each other.
If you're interested, here's information about the closest planet to Earth, and the closest planet to Mars.
Here's Hubblesite's News Releases about Jupiter, and the Solar System Exploration information on Jupiter.
We've also recorded an entire show just on Jupiter for Astronomy Cast. Listen to it here, Episode 56: Jupiter, and Episode 57: Jupiter's Moons.
Sources:
http://solarsystem.nasa.gov/planets/profile.cfm?Object=Jupiter
http://www.nasa.gov/topics/solarsystem/features/jupiter_encounter.html
http://curious.astro.cornell.edu/question.php?number=564