Want to stay on top of all the space news? Follow @universetoday on Twitter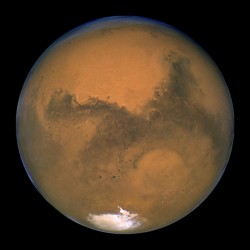 A question that lingered in many ancient astronomers minds was "how old is Mars?" Of course, they wondered the same thing about the other planets and the Sun, as well. Today, scientists believe that Mars, and the remainder of the Solar System formed about 4.6 billion years ago from the solar nebula.
Since no one has ever retrieved a piece of Martian rock for study, this assumption is arrived at by studying meteorites, Moon rocks, and the oldest rocks here on Earth. Meteorites have been around since the beginning, so if everything formed at once, then all meteorites should be the same age. We could compare the age of Earth's original rock to determine this if it had not be recycled deep underground by volcanism and erosion, but studying the oldest rock on the planet gives a general idea to scientists.
How do scientists determine the age of a meteorite? Mainly by studying the minerals found within them, lead isotopes to be specific. Uranium has been found to decay into certain isotopes of lead on a predictable schedule. Uranium235 will decay into the isotope Lead207 every 7.13×108 years and is used in radiometric dating. Scientist also know that uranium238 will decay into Lead206 every 4.468×109(4.468 billion) years. The presence of the lead daughter isotopes gives scientists a clue into the age of a meteorite.
A relatively large number of meteorites have been found on Earth. Each has been tested along with various rocks that are original to our planet. Samples from the Moon were tested as well. The results all show an approximate age of 4.6 billion years. That has led scientist to state that all of the material(this includes planets) in the Solar System is 4.6 billion years old. So, by extrapolation, the answer to "how old is Mars?" is 4.6 billion years old.
Astrogeologists and astrophysicists are continually looking for ways to narrow down the beginning of our Solar System. The most ideal would be to have a rock sample from every body in the group, but spaceflight technology is not advanced enough for that, yet. Missions have been proposed in which a lander would retrieve a sample from Mars and return to Earth. It would be quite interesting to tackle the logistics of such a mission. Alas, technologically, it may be a nightmare for decades to come.
Here's an article that helps explain how meteorites are used to determine the age of Mars. And more information about the early Solar System.
Here's some information about how the age of the Earth is measured. More about the formation and early history of Mars.
Finally, if you'd like to learn more about Mars in general, we have done several podcast episodes about the Red Planet at Astronomy Cast. Episode 52: Mars, and Episode 91: The Search for Water on Mars.
Sources:
http://solarsystem.nasa.gov/planets/profile.cfm?Object=Mars&Display=OverviewLong
http://history.nasa.gov/EP-177/ch2-4.html
http://pubs.usgs.gov/gip/geotime/age.html
http://astrogeology.usgs.gov/