Want to stay on top of all the space news? Follow @universetoday on Twitter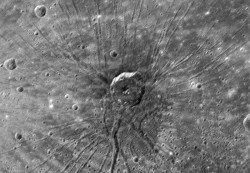 Does Mercury have volcanoes is a question that scientists could not answer with any confidence until the MESSENGER spacecraft began returning images of the planet. In fact, thanks to MESSENGER, NASA scientists are busy studying many new found volcanoes on the Mercurian surface.
Many of the surface features of Mercury are consistent with volcanic activity. When you look at images of the planet you can see irregularly-shaped depressions which are believed to be ancient volcanic vents. The edge of many dome-like features are thought to mark the limit of the lava flows from those vents. There are areas of bright material believed to be pyroclastic deposits ejected during volcanic eruptions and many of the impact craters on the surface appear to have had lava flows fill them after impact.
Additionally, Mercury is criss-crossed by long ridges. Scientists think that these ridges were caused when Mercury was volcanically active. The crust cooled, then the mantle. Both of which surround a still molten core. The contracting planet would have cracked, causing these ridges. Until the discovery of plate tectonics, scientist thought the same process formed the mountains here on Earth.
The images from MESSENGER have also made scientists rethink how recently Mercury may have been volcanically active. Prior to its first flyby, scientists had thought the planet may have been active, but only in the very early history of the Solar System, so about 4 billion years ago. According to Louise Procktor, planetary scientist at John Hopkins University the images "change a lot of our preconceived notions about how Mercury might have evolved.". She and several colleagues analyzed images covering a 290 km impact basin on the Mercurian surface. The basin is among the youngest observed on the planet. It has smooth plains across its floor that seem to be made of volcanic material. The very smoothness of the floor material suggests that it is more recent than cratered areas of lava flow. Procktor, et all, believes that this points to volcanic activity as recently as between 1 and 2 billion years ago.
The answer to "does Mercury have volcanoes?" is yes, but how recently they were active seems to be of debate. Hopefully, MESSENGER will send back definitive answers from orbit later this year.
We have written many articles about Mercury for Universe Today. Here are some interesting facts about Mercury, and here's an article about the size of Mercury.
If you'd like more information on Mercury, check out NASA's Solar System Exploration Guide, and here's a link to NASA's MESSENGER Misson Page.
We've also recorded an entire episode of Astronomy Cast all about Mercury. Listen here, Episode 49: Mercury.
References:
NASA Photo Journal
NASA: Discovery New Frontiers