Want to stay on top of all the space news? Follow @universetoday on Twitter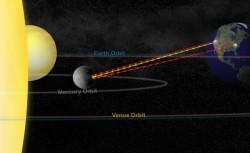 Mercury takes 88 days to completely orbit the Sun. So a year on Mercury is 88 Earth days, or nearly 25% of an Earth year.
The orbit of Mercury is highly eccentric, so the planet ranges in distance from the Sun between 46 million and 70 million kilometers.
The planet moves its fastest when it's at its closest point to the Sun (which astronomers call perihelion). And then moves the slowest when it's at its most distant point of orbit, called aphelion.
Astronomers used to think that Mercury was tidally locked to the Sun, where its rotational period (or day) matched its orbital period (its year). This would make it always face the same side towards the Sun. But now they know that a day on Mercury lasts 58.7 days.
Cuánto tiempo es un año en Mercurio