Want to stay on top of all the space news? Follow @universetoday on Twitter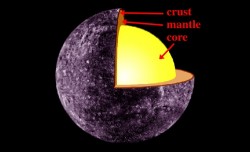 The formation of Mercury mirrors the formation of the Solar System in general. Our Solar System formed and began its evolution about 4.5 billion years ago. Shortly after the formation of the protostar that became our Sun, each planet began to accrete its mass from the protoplanetary disk.
Let's start with generalizations and then move to specifics about the formation of Mercury. While it is not known beyond a shadow of doubt how planets are formed, the most widely held theory holds that they are formed during the collapse of a nebula. A protostar forms and is surrounded by a rotating protoplanetary disk. Dust particles in the disk begin to collide and stick together(accretion). They steadily accumulate mass and form larger bodies. Once planetesimals form, they achieve a gravitational pull that accelerates the accretion process. These become dense enough to collapse inward under gravity and form protoplanets. Once a protoplanet achieves a diameter larger than our Moon's, it begins to form an extended atmosphere, which greatly increases the accretion rate through atmospheric drag. The process continues until the planets clear their orbits of all other objects or capture them as moons.
Mercury would have formed in the same way. Its path may have been cleared in part when the Sun ignited through fusion. Photoevaporation, solar wind, Poynting-Robertson drag would have helped the young planet by eliminating some of the material. Mercury is a very dense planet. Its core is very large in proportion to its overall volume. There are a few theories for that. One holds that Mercury simply formed in an area of space that was laden with metallic material. Another claims that before the Sun was stable the temperatures on Mercury were so hot that much of its surface was vaporized and blown away in the solar wind, leaving behind a thin mantle and crust, but a dense core. The prevailing theory seems to be that a planetesimal about 1/6 of Mercury's size crashed into the planet. The impact would have thrown a great deal of Mercury's surface material into space leaving behind a disproportionate amount of core material.
No matter what the specific steps were in the formation of Mercury's final geology, the planet began as every other planet: small particles of dust, free-floating in the early Solar System. You thought it was bad when dust covers your television screen. Imagine enough of it in one place to form a planet.
We have written many articles about Mercury for Universe Today. Here's an article about the composition of Mercury, and here's an article about the mass of Mercury.
If you'd like more information on Mercury, check out NASA's Solar System Exploration Guide, and here's a link to NASA's MESSENGER Misson Page.
We've also recorded an entire episode of Astronomy Cast all about Mercury. Listen here, Episode 49: Mercury.
La formación de Mercurio
References:
NASA Planet Facts
NASA: Mercury Fact Sheet
NASA: Planet Mercury