Want to stay on top of all the space news? Follow @universetoday on Twitter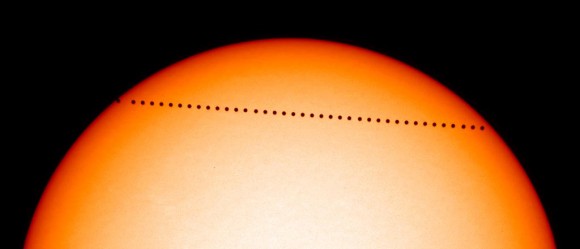 A transit of Mercury occurs every time the planet comes between the Earth's ecliptic and the Sun, so you would assume that one occurs at least once a year. That assumption is incorrect. A transit of Mercury only takes place once every seven years or about 13 times per century. The inclination of Mercury's orbit make the planet cross between the Earth and Sun at an angle that is either to high or too low for the planet to pass in front of the Sun. The last three transits occurred in 1999, 2003, and 2006. The next transit won't happen until May 10, 2016.
In the present era, transits of Mercury will occur within several days of May 8 and November 10. The planet's orbit is inclined seven degrees when compared to Earth's, so it intersects the ecliptic at two points or nodes that cross the Sun each year on those dates. Mercury must pass through inferior conjunction simultaneously for a transit to occur. Mercury is near perihelion during November transits , so it is only 10 arc-seconds in diameter. In May the planet is near aphelion and appears 12 arc-seconds across. A May transit is only half as likely because the planet's slower orbital motion at aphelion makes it less likely to cross the node during the critical period. November transits recur at intervals of 7, 13, or 33 years, while May transits recur only every 13 or 33 years.
Mercury only 'grazes' the Sun during some transits. When this happens, it is possible that some Earth bound observers will see a full transit, while others will see only a partial transit. This last occurred on November 15, 1999. The one prior to that occurred on October 28, 743 and the next will be on May 11, 2391. Rarely, a transit of Mercury can be seen in some parts of the world as a partial transit, but in others it will seem as if a transit did not occur. This last happened on May 11, 1937, and October 21, 1342. The next time will be on May 13, 2608.
Edmund Halley was the first scientist to theorize that transits could be used to measure the Sun's distance. This would be a method to establish the absolute scale of the Solar System using Kepler's third law. Halley's method is barely practical because contact timings of necessary accuracy are difficult to make. Despite these obstacles, his 1761 and 1769 observations of the transits of Venus gave astronomers the first good value for the Sun's distance.
Tránsito de Mercurio
References:
NASA Eclipse
Wikipedia