Want to stay on top of all the space news? Follow @universetoday on Twitter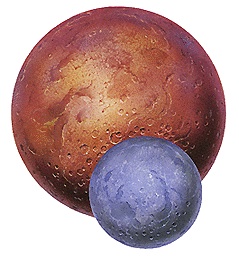 For most of its history since its discovery, Pluto was considered a planet, just like all the other planets in the Solar System. But in 2005, astronomer Mike Brown from Caltech shocked the world with the discovery of a new object named 2003 ub 313 which was actually larger than Pluto. Once other astronomers had confirmed its orbit and size, the object was renamed to Eris.
You can also look through these books from Amazon.com if you want more information about Pluto.
In the summer of 2006, the International Astronomical Union met in Prague to decide on the fate of Pluto as a planet.
Although only a small number of astronomers actually voted, they decided that Pluto and Eris wouldn't meet the qualifications for planethood any more. From here on out, the two objects would be considered "dwarf planets".
The new rules for planethood contain the following:
The object must orbit the Sun.
The object must have enough mass and gravity to pull itself into a sphere
The object must have cleared its orbit

This is where Pluto falls down. The mass of Pluto accounts for only a fraction of the mass of the objects in its orbit, while Earth has more than a million times the mass of its orbital companions.

In addition to Pluto and Eris, asteroid Ceres made the cut, becoming a dwarf planet. too. These are the only 3 official recognized dwarf planets, but astronomers think there are probably dozens more.

Objects which don't have the gravity to pull themselves (like asteroids) are known as small solar system bodies.